Review of the Electro-Voice ELX112P Live X Two-Way Powered Loudspeaker
Electro-Voice ELX112P 12″ Live X Two-Way Powered Loudspeaker
available from Amazon.com
I have owned the ELX112P speakers for about a month and have used them at 6 events. I feel I've used them enough to present my review of them and I do have mixed feelings about these speakers.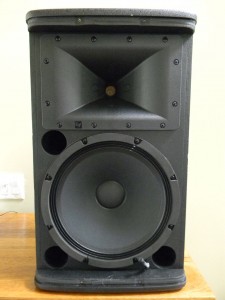 Let's heap some praise on the speakers first. I looked at quite a few speakers before deciding on the ELX112P's. The most direct competitor in my opinion is the Mackie SRM450V2 12″ 2-way Compact SR Loudspeaker BLACK (Single Speaker).
I did some A-B comparisons between the ELX112P and the SRM450v2 and can tell you that the EV offered a clearly superior sound. Much more clarity in the mid's and high's and punchy bass that moves some air. It was not a fair comparison… I felt the EV's were heads and shoulders above the Mackie's… except in the road-worthiness department. The Mackie's win that one.
The amount of bass that comes out these speakers is nothing short of amazing particularly when you realize it is only a 12″ ported woofer providing all that bass. The amplifier provides ample power to enable this speaker to achieve a sound pressure level that will satisfy just about anyone. I've never seen the peak limit LED light up yet and I've used these at a number of events where they were really cranking.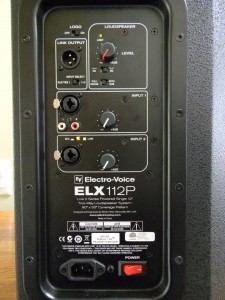 The back panel offers a very flexible number of inputs. Both Input 1 and Input 2 feature XLR/TRS combo inputs, each with a gain adjustment. Input 1 provides an additional choice of RCA inputs which means you can attach any sort of line level device to that such as an MP3 player. Input 2 can be switched between a Mic or Line level input. So with an MP3 player hooked up to Input 1 and a Microphone hooked up to Input 2, you're able to provide music and the ability to make announcements with a single speaker, no mixer necessary. That's awesome.
The back panel also gives you a normal/boost switch as well as switch to enable a 100hz high pass filter if you intend to use these with a sub-woofer.
There is also an XLR parallel output to chain this to another ELX112P. Curiously, if you use the RCA input, it is not passed through the XLR output.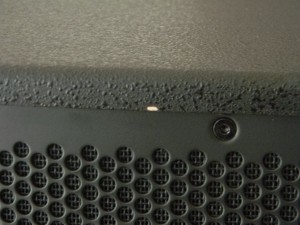 The plywood enclosure is one contributing reason that the bass sounds so good. You can develop a resonance in an enclosure with wood that just isn't the same as with plastic enclosures. But when you factor in the way this enclosure was designed, with its wrap around metal grill and sharp angles on the edges of the enclosure, you can immediately get the sense that good looking doesn't equate to road-worthiness. I've not only got speaker covers for my ELX112P's, I handle them with great care when loading-in or transporting in my vehicle. In spite of the great care I take, I've already got a ding in the top front of one of the speakers. I'm not looking forward to what's going to happen when I bang into a metal doorway frame one of these days.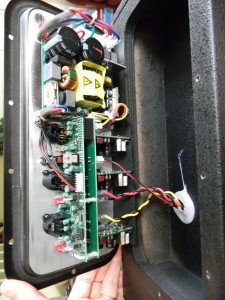 So how large do you think a 1000 watt amplifier should be? How heavy should it be? You might be quite surprised at how small the amplifier that is in the ELX112P actually is. I removed the screws of the back panel to take a look-see and here is what I found. Amazing how small it is right? If you click on the photo, it will get much larger to enable you to see it better.
So bottom line is that EV has produced a speaker that has a very attractive price point. The sound quality does not disappoint and the speaker can really crank. However EV really dropped the ball in the overall design of the enclosure resulting in a speaker that will get severely banged up unless you use an exceedingly great amount of care in handling and transporting them. If appearance after getting banged around is not a concern of yours, then you can consider these a 5-star speaker based on sound quality alone.
I am knocking them down to 4-stars because I feel that road-worthiness is a must-have for a speaker that is marketed to DJ"s and bands who will be loading these in and out of vehicles all the time and sliding them on stages and who knows what else. EV, you saved some money in building these in China, but maybe you should have put a little more thought into the enclosure itself. I definitely feel that a wrap-around grill cover is a poor design choice as well as the orientation of the carry handle.
Here is my video review of the ELX112P