Review – Chauvet 4PLAY LED Moonflower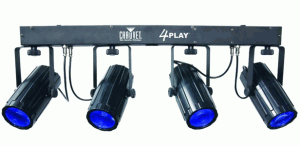 The Chauvet 4PLAY is a great value for the Mobile DJ. It's a light bar with 4-moonflower fixtures. Each light contains Red, Blue, Green and White LED's. The light comes with a nylon carry case. It is not the most robust nylon case you've ever seen and the zipper is particularly finicky but it is better than nothing. It is recommended that you handle the zipper with great care and be sure to go slow and don't force it if it begins to hang up on you.
The light itself is quite bright and versatile. It can be used in DMX mode, sound activated mode or auto mode. The audio sensitivity adjustment was a little finicky for me… I could never seem to get it just right. Auto mode is good. In auto mode the light just cycles through a pre-programmed series of patterns and colors.
There is an additional power outlet on the light bar that enables you to daisy chain something else off the fixture, maybe another light. I thought the power cord was too short. With the light at a reasonable 7 feet up on a stand, the cord does not even come close to reaching the floor. You end up having to hook an extension cord up to it that doesn't look nice. I bought a 25 foot power cord to replace the one that comes with the 4PLAY.
Overall a big thumbs-up from Digital DJ Equipment. It's a great light for spicing up your dance floor. I'd happily pay a little more though for a bit higher quality though. For instance, the strain relief on the lights themselves are very cheesy. They actually provide no strain relief whatsoever as the cable is too thin to even be gripped by the strain relief. But that is about my only gripe with this light.
PROS:
Great value.
Bright.
DMX controllable.
Auto mode makes for quick setup and instant gratification.
CONS:
Strain relief on light fixture plugs is ineffective.
Plastic knobs are not very durable.
Nylon carry case is very flimsy and zipper require great care in using.